RACE-APPROVED 1.0 HOUR CE COURSE
Telemedicine: From Inception to Execution in the Veterinary Space
START COURSE

RACE-APPROVED 1.0 HOUR CE COURSE
Telemedicine: From Inception to Execution in the Veterinary Space
START COURSE

Supported by an educational grant from TeleVet
This Course Is Part of the dvm360 CE Center
During the COVID-19 pandemic, dvm360's parent company, MJH Life Sciences™, is committed to delivering credible information and providing support to veterinary health care professionals on the front lines by hosting a series of webinars on a wide range of clinical and business-related topics. dvm360, which also hosts the popular live CE events Fetch and the Atlantic Coast Veterinary Conference, is pleased to bring you these virtual CE programs focused on helping you deliver the best possible care for your patients now and in the future. Throughout the series, dvm360's Chief Veterinary Officer and event moderator Adam Christman, DVM, MBA, will weigh in on how you can best apply this information to your practice even in these most challenging of times. On behalf of Dr. Christman and the entire dvm360 family, thank you for all you continue to do, risking your own safety while helping those that can't speak for themselves. See all the dvm360 CE Center courses here.
With the recent pandemic of COVID-19, telemedicine has rapidly been adapted to our ways of practicing veterinary medicine. Learn how to use telemedicine without legal woes, real life case examples of its implementation and how to successfully get team buy in. Hear additional examples from one veterinarian who has been using telemedicine for 3 years and another veterinarian who rapidly adopted telemedicine because of COVID-19. Find out how they both are safely providing care to their patients during this pandemic.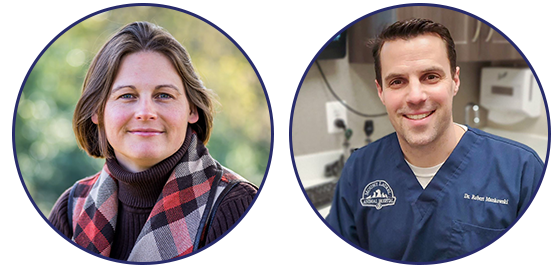 About the Authors
Jennifer K. Quammen DVM, MPH and
Robert Mankowski, VMD
Dr. Jennifer Quammen has been a leader in veterinary telemedicine for years. She was part of the AVMA Practice Advisory Panel, the volunteer leadership group who created the AMVA Telemedicine Policy. Dr. Quammen is the Immediate Past President of the Kentucky VMA, previous member of the AVMA Future Leaders Program, and Secretary of the Society for Veterinary Medical Ethics. She is also a previous Member and Chairwoman of the AVMA Council on Veterinary Service. Outside of organized medicine, Dr. Quammen practices predominantly small animal surgery and medicine and is the owner and co-founder of Veterinarian Coaching.
Dr. Mankowski is the co-owner of Mount Laurel Animal Hospital in Mount Laurel, NJ—an emergency, specialty and general practice hospital with over 40 doctors. He has recently implemented telemedicine into his practice and is looking forward to sharing his experiences with you today.
© 2020 MJH Life Sciences and DVM 360. All rights reserved.
For U.S. Veterinarians, Veterinary Students & Support Team Members Only